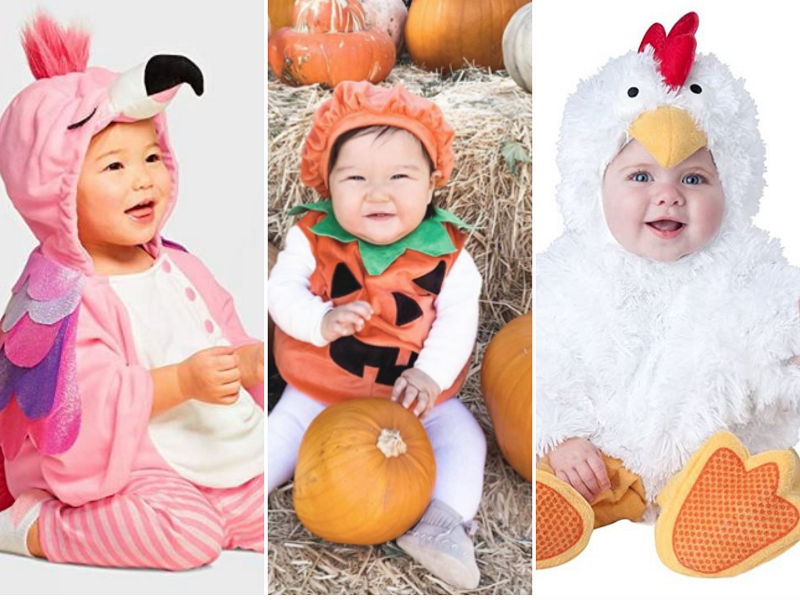 Baby Girl Halloween Costumes
The Best Baby Girl Halloween Costumes
If you want a comfy, cute, and absolutely adorable Halloween costume for your baby girl then check out these highly rated, most loved, best Halloween costumes for baby girls on Amazon.
This post may contain affiliate links. View the disclosure here.
The 10 Cutest and Best Baby Girl Halloween Costumes
Happy Halloween!
1. Baby Girl Avocado Halloween Costume
2. Cute Baby Girl Chicken Costume
3. Adorable Pink and White Baby Girl Unicorn Costume
4. Cute Baby Girl Starbucks Cappuccino Costume
5. Warm and Cozy Baby Girl Pumpkin Halloween Costume
6. Baby Girl Cute Duck Costume
7. Baby Girl Cute Giraffe Halloween Costume
8. Baby Girl Tinkerbell Costume
9. Baby Girl Ketchup or Mustard Costume
10. Baby Girl Pink Flamingo Halloween Costume
Disney Baby Boy Halloween Costumes for Newborns
Want Disney baby boy Halloween costumes? Check out these baby boy Halloween costumes for boys ages 03- months, 3-6 months, 6-9 months, 12 months, 18 months, and 24 months.
Mom and Baby Girl Halloween Costume Ideas
Want a duo Halloween costume for mom and her baby girl? Here are some fun and cute Halloween costume ideas!
1. Farmer and Her Pumpkin or Matching Pumpkins
2. Shark Attack and Shark
3. Dorothy from Wizard of Oz and the Courageous Lion
5. Mommy Shark and Baby Shark
Father and Baby Girl Halloween Costumes
And here are father and baby girl Halloween costume ideas.
1. Tigger and Pooh Bear from Disney's Winnie the Pooh
2. Fred Flintstone and Baby Girl Pebbles
3. Sully and Boo from Disney's Monster's Inc.
More Articles by Cute Munchkin
If you enjoyed this article with the best baby girl Halloween costumes on Amazon, you may also enjoy these related articles by Cute Munchkin!
Baby Girl Thanksgiving Outfits
Connect with Cute Munchkin
I'd love to connect with you! Please write a comment below and follow Cute Munchkin on Facebook.
Follow Cute Munchkin on Facebook to get notified of new posts with cute baby clothes, cute toddler outfits, and matching outfits for family.
Cute Munchkin on YouTube
Please subscribe to the Cute Munchkin channel. You'll find YouTube videos with stories for kids.
Cute Munchkin
Sign up for the Cute Munchkin Newsletter.